Chatbot as a service with a Whatsapp chatbot and 2ndNumber.
Getting a chatbot as a service through 2ndNumber could not be easier. The Whatsapp chatbot enabled by 2ndNumber is easy to set up and will feature as a widget on your website to help you answer typical customer enquiries, to improve conversion rates and to capture potential customers' phone numbers for follow-up marketing.
When you become a 2ndNumber customer you get a US, Canadian or UK phone number of your choice, with many additional features above and beyond what a standard phone network will give you. One of those many additional features is the option to build a chatbot for a website, through your 2ndNumber account. You can join 2ndNumber today and get set up in minutes, with a low-cost, cancel anytime, monthly subscription and no ID documents required for sign-up.
Some people refer to 'chatbot as a service' as 'Chatbox as a service', whilst other terms used to refer to the technology are Conversational chatbot, Ecommerce chatbot or AI chatbot. Ultimately we're talking about interactive technology which enhances the customer service and sales funnel of a business online.
Many of us have seen or used a WhatsApp chatbot before. You click the button to chat via WhatsApp on a website and you can then start chatting to an AI driven customer service 'agent' that has all the answers. Often the best experience from a user perspective is when the chatbot then refers the site visitor to a human customer service agent for further information, if it has not already been able to provide them with all the answers they needed.
Your site could be an ecommerce platform, or just an informational website. Wherever you can cut and paste HTML you can place the 2ndNumber Whatsapp chatbot as a service widget. The Whatsapp chatbot will then appear on your website as a widget in the corner of the screen with the Whatsapp icon next to it.
The widget appears in the corner of your website like this: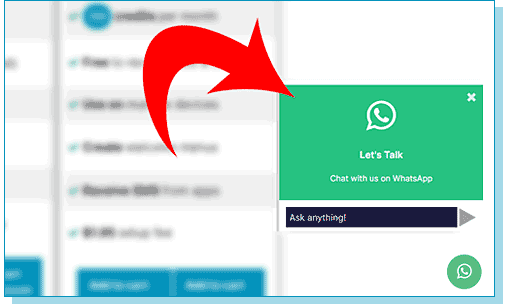 This allows your site visitors and customers to interact with your chatbot, which will provide answers that you have pre-programmed. Instead of relying on static FAQs (frequently asked questions) pages on your website, the 2ndNumber Whatsapp chatbot is a great way to make a customer or site visitor feel connected and can produce significant uplifts in conversion onsite. It also helps you capture more sales and more customer data.
When the user types in a word or question it will open up WhatsApp on the user's phone or computer. Then they can start chatting to your business directly.
We have created a tutorial on YouTube so that you can see how easy it is to set up a WhatsApp chatbot through 2ndNumber. You can watch it here.
To set the Whatsapp chatbot up through your 2ndNumber dashboard click on the robot face icon on the right hand side, then select Whatsapp chatbot. Then you build your chatbot as a service for your site visitors using the draggable elements. You always start with a 'Text Out' box, which you use to set a welcome message to your site visitors, which could be something like, 'We're here to answer your questions, just type 'Hello' to start. Then you use the intuitive, draggable 'Text In' and 'Text Out' boxes to build your ideal Conversational chatbot or Ecommerce chatbot, based on typical questions.
You can use the most frequently asked questions you get from your customers as the base material to populate your chatbot and then of course provide them with all the relevant information they need to move them along to the next step in the sales process.
Because 2ndNumber numbers are compatible with Facebook's Cloud API, you can use them to create a Cloud API account and then build your very own chatbot. If you want to find out how to create a Cloud API account, we created a tutorial here.
As well as offering chatbot as a service (or Chatbox as a service as some people call it), 2ndNumber has numerous other features such as separate business & personal numbers, two WhatsApp accounts on one phone or computer, calls & SMS on all devices. All this with no ID, contract or SIM card required.
With cheap domestic & international calls, you can also have two (or more) numbers on one phone and an SMS inbox which can be shared with your colleagues for joint access to online banking or online business services.
Why not get a 2ndNumber today?